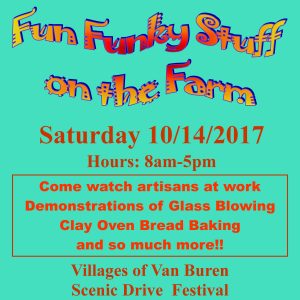 Join us for Fun Funky Stuff on the Farm Saturday, October 14, 2017  8am – 5pm
For the first time ever Bloom and Bark will be opening up the farm for the Van Buren County Scenic Drive Festival.  The weekend long festival is Southeast Iowa's Largest Arts, Crafts and Flea Market Event!  This event pulls in thousands of visitors and covers 11 different communities throughout Van Buren County.
Here on Bloom and Bark Farm we will be demonstrating our hand-crafted clay ovens baking delicious artisan breads and Artist Tim Blair will hold hourly glass blowing demonstrations.  Along with all the demonstrations, Kim will have her famous delectable jams for sale along with lots of other Fun Funky Stuff.
https://www.facebook.com/bloomandbarkfarm/
Download a complete brochure with a map here:
http://villagesofvanburen.com/special-events/scenic-drive-festival.html