Glass Blowing Classes
Ornament Making Class:  (No experience needed!)  Experience the magic of glass blowing.  These ornaments are not just for the holidays.  They are beautiful to display year around.  In this class we will help you create your own ornament to take home.
$20 per ornament which generally takes 15-20 minutes per ornament.  Minimum of 2 students/Maximum of 6 students per class.***
Additional ornaments can be made for only $15 each!
We now have Color available for ornament making – yeah!  Please add an additional $5 to each ornament you make if you would like to add color.
Glass Blowing Basics Instructional Class:  (No experience needed!)      Try your hand at hot glassblowing. Turn molten glass on a pipe, use tools, heat, gravity, and air pressure to transform the glass into your own work of art.   In this class you'll get familiar with the Studio equipment and tools.  You may take home everything you create.
2 hour class with 2 students $100. With guidance from the instructor, the two students will work as a team to create unique pieces of glass blown art.  (additional time may be scheduled at the rate of  $50 per hour)***
2 hour class with 1 student $70. Student will work one on one with the instructor for individual instruction to create your very own unique pieces of blown glass. (additional time may be scheduled at the rate of  $35 per hour)***
***All items are made with clear glass – no color.  Items will require a 24 hour cool down period before you can take them home.  You may stop out the next day to pick up your creations or we will ship them to you.  Addition of color requires additional cost.
Requirements:
Must be at least 12 years old (must be accompanied by adult if under age 18)
Comfortable COTTON clothing – do not wear excessively loose and baggy clothing.

Long Shorts (to knee) may be worn for the Ornament Making Class.
Pants must be worn for the Glass Blowing Basics Instructional Class.

Closed-toe shoes (sneakers are fine)
Hair must be tied back
It does get very warm in the glass studio, so wearing layers is always a good choice
Anyone not dressed as required will NOT be allowed to blow glass.
Bring water to drink
Protective eyewear will be provided
Call or email to schedule an appointment.  Glass blowing opportunities are available Thursday – Sunday by appointment only.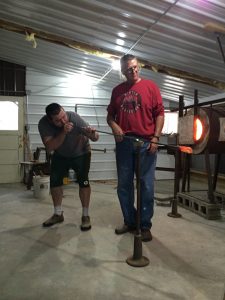 Glass Blowing
The Glass Shed (aka studio (for Kim)) is OPEN!!!

Well, it seems I have been a bit delinquent in posting about my glass blowing habit. It all started over a year ago, when I took classes with Jim Topic, a wonderful glass blower (gaffer in glass speak) in Nauvoo.  Rick Alexander, a good friend of mine, went with.  The draw was instantaneous.  Working with […]