Glass Blowing Classes
Beginner Instructional Class:  $25 per hour -per student, class generally will last 2-3 hours. Maximum of 2 students per class.    Try your hand at hot glassblowing. Turn molten glass on a pipe, use tools, heat, gravity, and air pressure to transform the glass into your own work of art.   In this class you'll get familiar with the Studio equipment and tools.  You may take home everything you create.***
Ornament Making:  $20 per ornament which generally takes 15-20 minutes per ornament.  Maximum of 6 students per class. This is a quick workshop where you can learn how to make a round ornament.   We help you to shape and inflate molten glass in to a delicate orb to take home.***
Additional ornaments can be made for $15 per ornament.
***All items are made with clear glass – no color.  Items will require a 24 hour cool down period before you can take them home.  You may stop out the next day to pick up your creations or we will ship them to you.
Requirements:
Must be 12 years
Comfortable cotton clothing – do not wear excessively loose and bagging clothing
Closed-toe shoes (sneakers are fine)
Hair must be tied back
It does get warm in the glass studio, so wearing layers is always a good choice
Be sure to bring your own bottled water.
Glass blowing opportunities are available Thursday – Sunday.   By appointment only.  Call or email to schedule an appointment.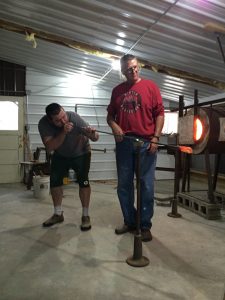 Glass Blowing
The Glass Shed (aka studio (for Kim)) is OPEN!!!

Well, it seems I have been a bit delinquent in posting about my glass blowing habit. It all started over a year ago, when I took classes with Jim Topic, a wonderful glass blower (gaffer in glass speak) in Nauvoo.  Rick Alexander, a good friend of mine, went with.  The draw was instantaneous.  Working with […]